For those of you who follow my blog, first of all, let me say thank you for doing so.  And second of all, you 'may' have noticed that I have not been posting as much as I once did.  I have given explanations and occasional update informing you all that I was in the process of publishing my first book.  In comparison to some many other heartfelt ventures, this one has proceeded fairly smoothly.  There were four tedious rounds of editing, even though, I have read and edited this novel countless times, much to my dismay.  And after few, brief internal struggles and some out of pocket expense, my first novel has been published and is available for purchase.
Presenting "A Haven Amidst Perdition."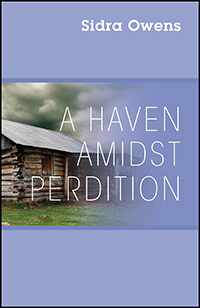 I am so thankful to all those who have supported me through words and deeds (donations).  But more than that, I have encountered so many who appreciate my writing and have been pushing for this, maybe for far longer than I have.  Thanks Sedrik for all of your suggestions, and listening and re-listening to me tell this tale to you, over and over again. (Yes, the repetition of that statement is on purpose.)
For all of you, who have enjoyed reading my prose and my points of view on various topics, I hope that you may find it in your heart (and your wallet) to take the time to indulge in this read, and grow to love the characters as much as I do.
Of course, it is available via Amazon, Barnes and Nobles, as well as Outskirts Press, and these links will be listed below for your convenience.
And once again, thank you to all for your kind words and encouragement!
https://www.amazon.com/Haven-Amidst-Perdition-Sidra-Owens/dp/147878668X/ref=sr_1_1?ie=UTF8&qid=1494604537&sr=8-1&keywords=a+haven+amidst+perdition
http://www.barnesandnoble.com/w/a-haven-amidst-perdition-sidra-owens/1126303853?ean=9781478786689
https://outskirtspress.com/sidraowens
-If you have enjoyed my commentary or my short stories, then please check out my youtube channel, The Wicked Orchard; where you can listen to me read my short stories
-And don't forget to check out Comparative Reasoning here on wordpress for written commentary on a whole hosts of topics.
-If you'd rather listen than read, definitely check out Comparative Reasoning on youtube, where you'll hear of earful of social, economic and political commentary.